BEAUTIFUL FAIRFIELD COUNTY WEDDING VENUES
---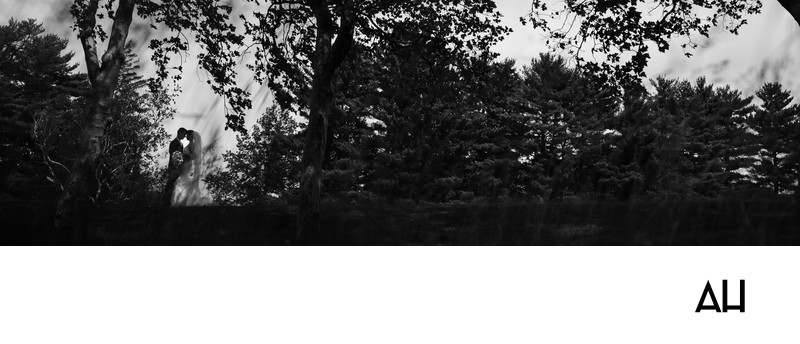 ---
Fairfield County is one of Connecticut's busiest and most beautiful areas. Close to New York, historical and vibrant, you are sure to find many amazing locations to say I do. Fairfield County wedding venues range from harbors to clubs, to incredible hotels. If you want the great atmosphere that Connecticut offers, with all the extras of a big city, this is the place for you. We have gathered the 20 best Fairfield County wedding venues to help you decide!
---
---
Winvian Farm
– The Winvian Farm is a special kind of place. It was made for those chasing after serenity and looking to have the essence of that serenity captured in their wedding. Based on the experiences of past couples who have held their weddings here, it was very successful. Breathtaking outdoor spaces, romantic solitude, and excellent cuisine make up this lovely space. You and your guests can walk the spacious grounds and even try out the spa for relaxation. 155 Alain White Road, Morris CT, 06763

(860) 567-9600
Candlelight Farms Inn – The Candlelight Farms Inn screams romantic right from the name. It certainly lives up to that name with the way it uses its natural setting. You'll feel like you walked into the set of a movie. Want to get lost in nature for your wedding? With plenty of spaces to party in, and room for 300, what could be more perfect than this country venue? 214 Candlewood Mountain Rd New Milford, CT 06776 (860) 210-0594
Delamar Greenwich Harbor – The Delamar Greenwich Harbor is one of the most prestigious hotels in Fairfield County. If you're looking for a feeling of exclusivity, you'll find it here in plenty. Opulent, luxurious, and with one-of-a-kind water views to take in, this hotel cannot be overstated. Reserve rooms for your guests so they too can enjoy the beauty of this stylish resort with French flair. 500 Steamboat Road, Greenwich CT, 06830 (203) 661-9800
Historic Lounsbury House – The Historic Lounsbury House is about as versatile as it gets. It is not only capable of hosting both large and small parties, but it also adds its own nostalgic vibe to the whole affair. This elegant space is just what is needed for a brand-new couple and 250 friends. The team here is incredibly efficient and able to guide you seamlessly through the wedding process. Beautiful indoor and outdoor accommodations. 316 Main Street, Ridgefield CT, 06877 (203) 438-6962
Fox Hill Inn – Fox Hill Inn certainly has a foxy vibe about it. This neat little spot is just right for your wedding if you're looking for a getaway where you can have something intimate. With distinct historic vibes and clean architecture, beautiful gas lamps and shrubberies that blend perfectly into the property, you can't go wrong. This venue accommodates 250 guests for your celebration. 257 Federal Road, Brookfield CT, 06804 (203) 775-0089
---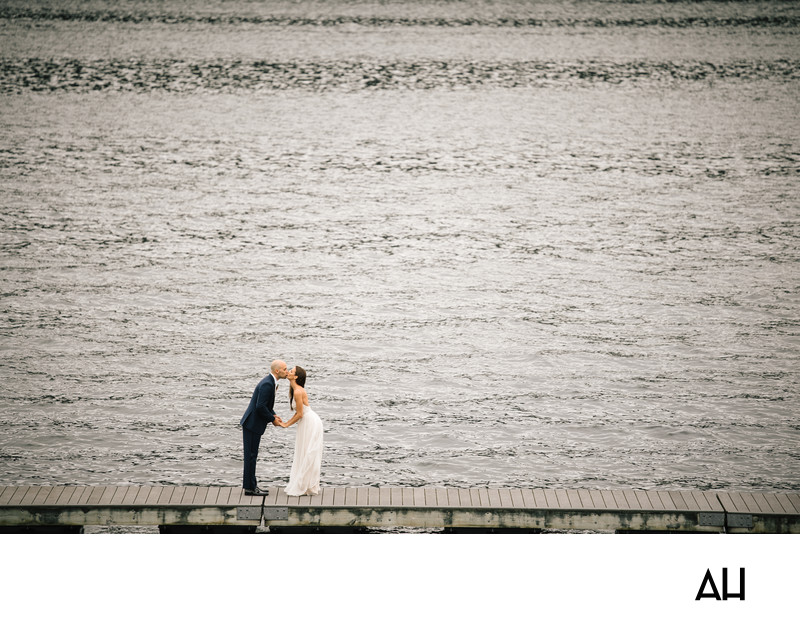 ---
Dolce Norwalk – Dolce Norwalk is perhaps the most picturesque venue in Fairfield County. Beautiful and traditional with plenty of picture opportunities and the chance to make lifetime memories, Dolce Norwalk will be your easiest wedding decision. 32 Weed Avenue, Norwalk CT, 06850 (203)852-7300
Candlewood Inn – Candlewood Inn is both rustic and fair. It at once captures the essence of being both wild and romantic, as if having popped out of a modern romance. This picturesque Inn is the height of romanticism with artistic windows and plenty of space. 300 people can take in these lovely views as you say I do. 506 Candlewood Lake Road, Brookfield CT, 06804 (203) 775-4517
Woodway Country Club – Woodway Country Club may have a simple and unassuming name, but this club is as grand as it gets. It has a wide range of facilities and spaces, leaving you spoilt for choice when it comes to wedding venues. Transformable to fit your needs, for small parties or large ones of 400, this space creates the perfect ambience. Many rooms to choose from, and breathtaking grounds, come with this space. 540 Hoyt Street, Darien CT, 06820 (203) 322-1661
The Country Club of Darien – he Country Club of Darien is absolutely breathtaking. The spacious grounds and well-manicured lawns will you're your guests happy as they enjoy your big day. Grounds that leave you breathless and a staff you can completely trust. This space is classy and stylishly simple. 300 Mansfield Avenue, Darien CT, 06820 (203) 655-9726
Wee Burn Country Club – The Wee Burn Country Club is as relevant and beautiful today as it was when it was opened. And it will likely be just as relevant many decades into the future. It has a certain unbeatable quality to it. Both timeless and chic, this space is an unforgettable venue. You will have an incredible time tying the knot here. 410 Hollow Tree Ridge Road, Darien CT, 06820 (203) 655-1477
The Country Club of New Canaan – The Country Club of New Canaan does make one feel as if they have arrived at the promised land once they visit it and experience it first-hand. To see this venue is to fall in love with its 100-year history; it has earned its place in the heart of the wedding industry. Dance the night away in this amazing space. 95 Country Club Road, New Canaan CT, 06840 (203) 966-3513
Rockrimmon Country Club – The Rockrimmon Country Club is the definition of beautiful country charm. Hills upon sloping hills and beautifully mature trees and foliage make this venue a winner. It is perfect for any group size and perfectly accommodates those with high-class tastes. 2949 Long Ridge Road, Stamford NY, 06903 (914) 764-5010
The Patterson Club – The Patterson Club is all about maintaining a felling of intimacy no matter how many people are in attendance. Cozy but big enough for 240 people to party comfortably. Make it amazing by hosting your wedding in this fantastic environment, and bringing your own unique touch. 1118 Cross Highway, Fairfield CT, 06824 (203) 259-5244
The Loading Dock – Load up your future at this chic and artsy venue. The Loading Dock is perfect for just about any style of wedding. This venue is sleek, up-to-date and exciting. For the hip bride and groom who appreciate art and are looking to have a great party that will be talked about for years! Can hold up to 300. 375 Fairfield Avenue, Stamford CT, 06902 (203) 357-7400
---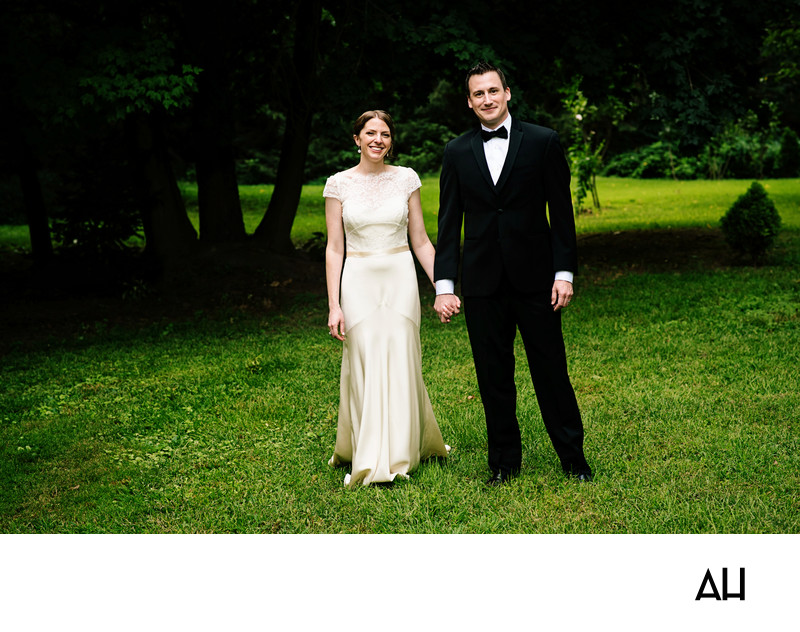 ---
The Maritime Aquarium – Have you ever wondered what it would feel like to have an audience of fish at your wedding? Even crustaceans and octopuses can join in the party! If you love all water creatures and are looking to celebrate your nuptials amidst incredible exhibits and animal life, look no further. For receptions, this site can hold 1,000. 10 North Water Street, Norwalk CT, 06854 (203)852-0700
Hyatt Regency Greenwich – The Hyatt Regency Greenwich is all about offering the full package. This is the spot with all the extras, from honeymoon accommodations, to wedding planners and perfect décor. Check out this luxurious venue for your big day!1800 East Putnam Avenue, Old Greenwich CT, USA 06870 (203) 637-2940
Bank Street Events – The Bank Street Events is a venue you can comfortably bank on. This venue specializes in events, so you can be sure that you will get the wedding of your dreams! It brings over a hundred years of history to the stage. 65 Bank Street, Stamford CT, 06901 (203) 325-2739
The Inn at Longshore – The Inn at Longshore is so beautiful you'll question how real it is. A dazzling manor that resembles a Victorian dollhouse, this Inn can't be beat. No matter what time of year you want to tie the knot, the team at Longshore is there to make it happen. 260 Compo Road S, Westport CT, 06880 (203) 701-7150
Rolling Hills Country Club – Roll into the Rolling Hills Country Club and have the wedding of the century. This pristine and elegant space can accommodate up to 280 friends and family for your big day. The club sits amidst an incredible nature setting, which makes perfect picture opportunities. 333 Hurlbutt Street, Wilton CT, 06897-2604 (203) 762-4604
About Fairfield County Wedding Venues
So he finally proposed and put a ring on it. You're now engaged. Congratulations! What next? Well, you'll have to think about your wedding venue now. This should be the first decision you have to make on the way to your big day. If it will include catering, then it will likely be your most expensive decision as well. There are a few things you should consider before you get married.
Figuring out the location for the big event is a little like a fulcrum: everything else balances on this finer point. Once you've got this monster out of the way, you can breathe an intermediate sigh of relief and begin sending out cards. Save-the date-cards, invitation cards, and many others. You can start thinking about the wedding cake and the music you'll want at the event. You can think about the flowers and decorations. You can even think about the type of music you'll play your guests. Come to think of it, you can finally draw up that guest list.
---

---
What is a Fairfield County venue all about?
Whatever place you choose for your wedding, there are a few things to look out for. The size, for one, is certainly important, because you would like to accommodate all of your guests. Then there's the food. Does the venue include catering, or will you have to go looking for your own caterer?
How is the service at the venue? If you're holding a formal or semi-formal wedding, you want the service to match. A 5-star wedding at a venue with 3-star service simply won't do. Finally, you need to watch out for the ambiance. There's a mood you want, whether it's rustic, or chic, or artsy, or even nostalgic, as in a historical location. You want to elicit a certain emotion from your guests and the venue will play a significant role in that.
All of these are important things that you have to keep in mind. You cannot compromise on them because they make the stage upon which your magical wedding will happen. What's a show without a stage? You can be sure of one thing, at least: your guests will certainly never forget the experience they had at your wedding, whichever extreme it falls on. So why not give them a positive experience to take with them?
It's Important to know the type of Wedding
Did I say that the venue is the first decision you're going to have to make? Well, that wasn't entirely true. To be honest, that would be like putting the cart before the horse.
Before you decide on the venue, there's an even more important decision you need to make: the type of wedding you're going to have. You can't go for a historical mansion and then want a beach wedding. However, if you knew you wanted a beach wedding to begin with, you'd be better placed to go looking for a beach venue to hold your wedding at.
First it starts with the what. Once you know what kind of wedding you want to have, you can move on to the next step in the sequence: the where. You'll now be able to find something that fits. It should be able to capture the kind of ambiance you're looking for. It should also be affordable and large enough to accommodate your expected guests.
I think the word that perfectly summarizes it is 'personal'. The wedding venue should certainly feel personal. It should feel so personal that it should be almost indistinguishable from being married at home.
The most important person here is the bride (sorry, grooms). A venue should, first and foremost, be able to speak to the bride. She should feel the vibe is just right before selecting it. This is going to be her special day, after all. In fact, if everything goes right, she will never have another day like this again. She should therefore not hold her wedding at a place that doesn't speak to her.
So how do You Find the Perfect Fairfield County Wedding Venue?
We now know what the perfect venue is supposed to feel like, roughly. So how does one go about the process of finding the perfect venue? You should ask a ton of questions. These include the following:
How many guests are you expecting – You need to know how many guest you're going to be expecting at your wedding. Then you need to find a space that can accommodate these guests. The floor plan and amenities are important here because they should be able to cater to the needs of your crowd, whether big or small.
What's the unit cost – Unit cost in this case means the cost per guest. This figure will include a whole slew of things, such as the tax, any gratuities, and the service. These charges are probably small, individually, but they have the uncanny ability to add up pretty quickly.
The Duration of the wedding – In this case you need to have a clear idea of when the wedding will start and when it will end. You should then cross reference this with the allowed start and end times of the venue in question. Be careful to also consider any overage charges that might be included for going over the allotted time.
Food – Food is one of the most important things at your wedding. Your guests certainly won't enjoy seeing you exchange your vows on your special day if their stomachs aren't well taken care of. Once you've decided to include a venue in your short list, you should take some time to do a tasting of their food and decide if it's good enough.
The Service – In this case, your primary interest should be the number of service personnel that will be available at the wedding. You don't want a shortage of service or you'll have to deal with a lot of grumbling from your guests. In case there will be liquor involved at your wedding, you should also take note of how many bartenders you'd like to have present at the wedding reception.
Your need for exclusivity – You might want the even to be exclusive so that not just anyone can enter. The guests will have their invitation cards checked at the entrance and you'll have some bouncers to keep everything in order. You should go through your short list of vendors and see just how well they offer this option.
Other events – There might be another wedding or even slotted to happen at the same time as yours and this might have implications for how you're going to share the facilities and its various spaces and amenities. In that case, you should make sure you find out from your vendors whether there will be any other events happening so you can make an informed decision.
You might also want to consider some other things, apart from the ones above. One of these is logistics. The venue shouldn't only be great, but accessible as well.
Your family and friends should be able to easily get to your wedding in a sensible way. In case they're coming from far and wide, which they most likely will be, you'll need to be able to accommodate. The area should have plenty of hotels, lodges, and inns where your guests can spend the night in the days leading up to the wedding as well as the days after. A good venue is one that meets your needs and those of your guests as well.
What happens when you can't get booked?
There's always the chance that the specific date on which you're looking to get married simply can't happen because your dream venue is booked on that day. If that's the case, then you shouldn't panic.
You can always explore other dates. Most weddings happen on a Saturday morning with the receptions happening on a Saturday afternoon and night. But there are certainly more couples looking to get married in a given area than there are venues or Saturdays in a year. Perhaps you could consider having you wedding on a Friday night, instead. You might find that you have a smaller chance of missing your date that way.
Alternatively, you can hold your wedding in a different season altogether. Each venue has certain times of the year when it is heavily booked. These usually coincide with the season. A lot of couples like to get married in the summer or in fall. You could do your wedding in spring or push it forward to the next summer or fall.
If you have to push your wedding date forward to deal with booking issues, take it positively and see things on the bright side. It means you have more time to plan for your big day and make it even more perfect. Remember, you'll have to pick a struggle. You'll either be flexible with your wedding date, or you'll be flexible with the venue.
Venues can be anywhere
For some couples, the perfect wedding venue doesn't have to be some grand mansion or resort, or even some rustic farm that's open to the public. It could be their very own backyard!
The idea of getting married in your own home can certainly be very alluring. You get the comfort of a familiar environment and logistics are much easier to handle.
However, be careful. Just because you're holding your wedding at home, it doesn't mean that your wedding will be cheaper. It could end up costing even more than you would have spent had you had your wedding at a commercial venue. You can be sure you'll have to bring most of the stuff in, whether we're talking about the cutlery, or the bathrooms, or even the flooring.
Another thing you need to remember is that, if you hold your wedding at home, you can't leave and go home and expect everything to magically take care of itself like it does at a commercial venue. The aftermath of your wedding will be right there with you. With an even as big as a wedding, the cleaning up afterwards is bound to be colossal.
At the end of the day, it doesn't really matter where, specifically, you hold your wedding. What matters is that you find a venue that meets all of your needs. It should check every box on your checklist and feel right.
You should also make sure you're going through the process of planning with someone you can trust. To make it work, make sure it's someone close and whom you have a good working relationship with. You will definitely be spending a lot of time with that person.
---

---
The Legal Side of getting married in Fairfield County
Being in Connecticut, Fairfield County marriage laws are pretty much the same as Connecticut marriage laws. This is important to note because getting married isn't much if you don't get a marriage license.
Each state has its own laws when it comes to getting married. Connecticut is no different. However, this shouldn't worry you. Usually, the tasks involved are very simple and typically few. I won't lie to you and say they're fun to carry out. However, they are important. Probably more important than the more fun stuff, like trying out gowns and tasting cakes.
Handling the legal side on time will ensure you have a smooth wedding experience and even go for your romantic honeymoon without anything nagging you at the back of your mind.
What you need to know
Fairfield pretty much has the same rules and procedures as the other towns and cities in Connecticut. However, you may still have to visit the Town Hall to get more information. The basics are listed below, however:
There can be no proxies at your wedding, under any circumstances. You and your significant other should be there in person at the records office in Fairfield if you plan on getting married in this town.
Once you're at the records office, you'll have to do a few things. First, you'll fill in an application for a marriage license. Then you'll make a sworn statement and pay $30 dollars for the marriage certificate. You should also be able to present some kind of identification. Make sure you visit the records office beforehand to find out what kind of identification is acceptable. Once all of that is done, you have an allowance of 60 days to get married.
After you have your wedding whoever officiated the ceremony will have to hand over the license back to the records office so it can be made into a permanent record.
There is also the question of who can officiate your wedding. In that case, Fairfield follows the general rules of Connecticut, which are as follows:
State referees, family support, magistrates appointed in Connecticut, and Justices of the peace.
Any judge, whether current or retired. This includes federal judges who have been ordained with the power to officiate marriages in jurisdictions outside of Connecticut.
Any member of the clergy, whatever the religious denomination, who has been licensed.
CT Wedding Photographer Andrew Henderson, 422 Villa Ave Fairfield CT 06825 - (203) 997-2332