16 BEAUTIFUL VERMONT WEDDING VENUES
---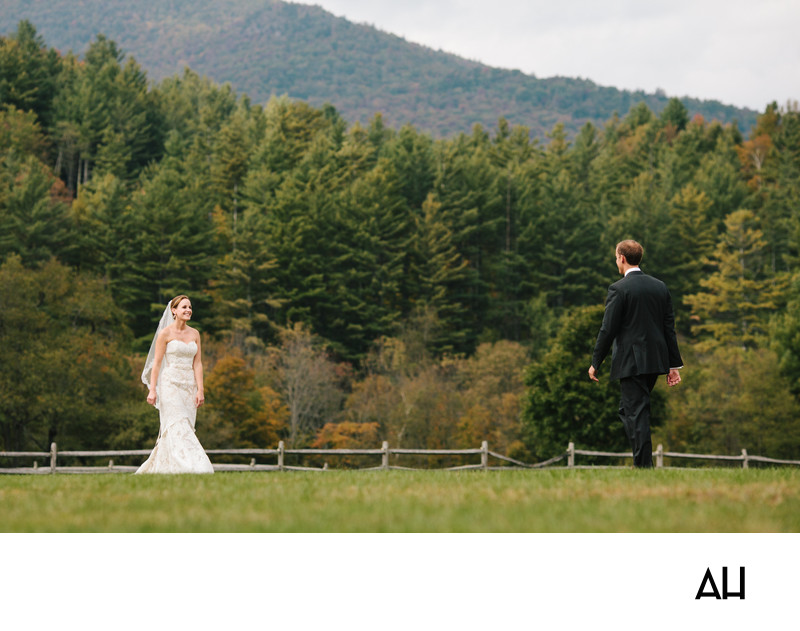 ---
Vermont has 11 regions from which to choose when it comes to holding your wedding.
Known as the Green Mountain State, it has all the Vermont wedding venues you could need to make your wedding as magical as you imagined it
.
One of my favorite places in Vermont is Burlington. This happens to be the largest city by size (It only has 40,000 residents) in Vermont. It is pretty popular for couples looking to get married. Even in the winter there are plenty of options, especially the ski slopes.
If you're looking for something a little smaller, Montpelier might be more charming to you.
With its excellent sense of togetherness and community, you will enjoy the many intimate Vermont wedding venues to
be found
in this city
.
The local scene is bustling with options.
Being a
predominantly farm state
, you're likely to find plenty places to get married in Vermont that support the farm-to-table idea
. It is very easy to incorporate local cuisine into your wedding menu. Local farmers and brewers are very cooperative.
You could get cheeses and other products from the dairy farmers,
craft beer from the brewers
, wine from the vineyards, meat and produce from the ranches, and Vermont's signature maple syrup
.
All you have to do is talk to your caterer to see if you can make deals with local farmers to have them supply your big event with food
.
Vermont is, by all definitions of the word, beautiful. From its snow capped mountains to
its green landscape
. From its stately mansions to its
Vermont barn wedding venues
. From its rolling farmland to its serene vineyards. There is not only beauty to
be found
here, but utility as well.
Whatever your fantasy, Vermont has a way of taking it and blowing it up into a full-fledged yet almost unbelievable reality
. Try it out; I promise you'll fall in love with it
just
as much as I did.
The following Vermont wedding venues is by wedding photographer, Andrew Henderson. If you are looking for a wedding photographer and would like to book me, contact me.
---
Best Vermont Wedding Venues
---
Honora Winery & Vineyard - The Honora Vineyard is the perfect place to hold a warm and elegant wedding that is at once both glamorous and intimate. Acting as the nexus of both Napa and New England, this beautiful venue is tucked away in the Easter Mountain Range and offers breathtaking views of the surrounding landscape. The facilities blend into the environment and include gazebos, trellises, stone patios, and an abundance of vineyards as far as the eye can see. You can hold your outdoor cocktail in the luxurious patio or enjoy the view of the Green Mountains through the French doors. Alternatively, you can go down the staircase to meet your groom during the ceremony. If you are looking for Southern Vermont wedding venues, you've come to the right place. The address is 201 Vt Route 112 PO Box 458 Jacksonville, VT 05342 and telephone number is (802) 368-2233.
Inn at the Round Barn Farm - The name of the river valley where the Inn at the Round Barn is located is rather interesting: The Mad River Valley. And yet, nothing seems mad about the beautiful landscape or the bed & breakfast that lies cozily in it, as if it grew out of the land with the trees. The Round Barn itself is quite rural and holds a certain charm to it that you'll want to take full advantage of on your wedding day. There are opportunities to say your vows and hold your reception and cocktail party both indoors and outdoors so you're spoilt for choice. The number of photo spots is also overwhelming. All in all, you can be sure you'll get an all-round experience at the Round Barn. 1661 E Warren Road Waitsfield, VT 05673 and telephone number is (802) 496-2276.
Saltash Farm- The family that owns the Saltash farm only recently entered the wedding and event industry. The bug caught them in earnest after their daughter's wedding that happened recently. It was held at this venue and was a roaring success. Once they saw what was possible, they decided to dive right in and now they own two wedding venues. They make dreams come true for couples from all over the country every year. Saltash is one of these wedding venues and it will certainly make your dreams come true with its lush countryside vibe. Pay the place a visit and we promise you'll be enthralled. The address is 1204 Bailey Road Shrewsbury, VT 05738 and telephone number is (802) 417-2042.
Okemo Mountain Resort - Okemo is a beautiful mountain among Vermont's beautiful Green Mountain range. The Okemo Mountain Resort is a beautiful mountain resort in the middle of it all. And it is this beautiful mountain resort that you should choose as the venue for your special day. The Okemo team go to great lengths to make sure your special day stands out with their indoor and outdoor wedding venues in Vermont as well as their capacity to host wedding ceremonies and receptions throughout the year. Their cuisine features the best that Vermont has to offer and their sommelier is an award-winning wines expert. When you think magical, Okemo should be the first thing that springs to mind. The address is 77 Okemo Ridge Road Ludlow, VT 05149 and telephone number is 800-78-OKEMO.
Sleepy Hollow Inn Ski & Bike Center - The Sleepy Hollow Inn Ski & Bike Center is anything but sleepy. This venue is set on 800 acres of nothing but pure niceness, fun, and adventure. You will love to exchange your vows in front of the gazebo with a pond below it. The potential for pictures with that pond as the background is virtually unlimited. Even better is the Round Barn Event Center, a 17 sided hall that has a way of transporting you to another dimension. The grounds themselves are expansive enough that exploration is a must. 30 miles of trails weave their way through this beautiful property and camping sites are in plenty. Any adventurer would seriously enjoy having their wedding here. The address is 427 Ski Lodge Drive Huntington, VT 05462 and telephone number is (802) 434-2283.
Stowe Mountain Lodge - The Stowe Mountain Lodge is an excellent location for those looking to experience a classical Vermont wedding. Situated atop a mountain, this venue offers wide, sweeping views of the surrounding landscape with lots of photo opportunities. The Aqua pool is perfect for your poolside ceremony while terrace will give you unobscured views of the iconic Mount Mansfield. If you're looking to have an indoor affair, you'll love the Junior Ballroom with its floor to ceiling picture windows. The lawns and terraces lend themselves to all sorts of fun and games as well during the warmer months of the year. It's guaranteed to be an unforgettable wedding. The address is 7412 Mountain Road Stowe, VT 05672.
Basin Harbor Club - Just beyond the Adirondack Mountains lies a beautiful wedding venue: the Basin Harbor Club. Prepare yourself to experience incredible views of the surrounding landscape and have them as the backdrop to your wedding ceremony. Enjoy the radiant flowers in the Orchard Garden and have your reception in the Lodge Lawn. Marvel on the Adirondacks as you stand with your guests on the North Deck and have your cocktail later in the Town Hall. The number of spots and venues you can use in this venue are legion and so you should never feel too restricted. As long as you're looking for something beautiful, the Basin Harbor Resort & Boat Club has you sorted. The address is 4800 Basin Harbor Road Vergennes, VT 05491 and telephone number is (800) 622-4000.
Hildene, The Lincoln Family Home - The Hildene is set in Manchester, one of the older Vermont villages, and is actually a family home. This unique destination is full of beautiful spots where you can hold different activities such as your ceremony, reception, and cocktail party. The scenic views of the mountains on all sides will serve as a magical backdrop to add that extra punch to the mood. The family gardens, the seasonal tent, the views of the valley at the bottom and the mountains to the east and west; all of these things are part of what makes Hildene the first choice for many couples looking to get married in Vermont. The address is 1005 Hildene Road Manchester, VT 05254 and telephone number is (802) 362-1788.
The Inn at Mountain View Farm - The Inn at Mountain View Farm has a simple and unassuming name. The actual location, however, is anything but simple. Breathtaking, to say the least, this beautiful venue has been recognized as a top inn by such distinguished publications as Travel & Leisure and Country Living. It lies on 440 acres of farmland and has amazing spots and amenities, including rose gardens, grassy hills, wonderful views of the surrounding landscape, and fantastic indoor venues. The Willoughby Room, in particular, is perfect for indoor parties with a more intimate feel. The Inn at the Mountain View Farm will make your wedding memorable in every sense of the word. The address is 3383 Darling Hill Road East Burke, VT 05832 and telephone number is (802) 626-9924.
Reading Farms Estate - Reading Farms is in many ways, the center of Vermont. This family estate has been around since the late 18th Century and has now been owned by the same family for over a hundred years. It has been featured in numerous architectural publications, including the Architectural Digest and the House Beautiful. It sits right in the middle of two of the most iconic mountains in Vermont, the Killington and Okemo Mountains. What more can you wish for? The European architecture blends in perfectly with the more modern additions and the 400 acre estate features plenty of venues to hold your activities and take wonderful photos in. Choose this exclusive location for your exclusive wedding and you won't regret it. The address is 188 Reading Farms Rd, Reading, VT 05062 and telephone number is (802) 484-3333.
Woods Hollow - Serenity, elegance, and simplicity. If I were to describe Woods Hollow in 3 words, those would be my words of choice. This locale is a gem among Vermont wedding venues. This house is a rental in Westford Vermont that you can have all to yourself for a weekend wedding. It is especially perfect for those looking to have an intimate affair with only close family and friends as it only has accommodation for up to 7 people. It also features a beautiful lawn where you can have your cocktail party at night under the stars. The yoga and meditation house would be a wonderful place to hold your sit-down reception and the acres outside with their picturesque views would be excellent for photo ops. The address is 189 Woods Hollow Road, Westford, VT and telephone number is (802) 338-6351.
The Mountain Top Inn and Resort - 350 acres of options. Almost every square inch at The Mountain Top Inn is unique and with its own personality. This fantastic venue features a lake, a beach, woods, meadows, trails, gardens, a pontoon boat, and stable. There are over 20 guest houses of different kinds and a whole host of other locations where you can hold your intimate or grand affair. Rooms with large ceilings and two story fireplaces lie side by side with chalets with balconies all round. Private lawns lie on the edges of wooded areas and pools are alongside garden. The Mountain Top Inn & Resort is almost a microcosm all on its own that you will just love to sample for your wedding day. The address is 195 Mountain Top Rd, Chittenden, VT 05737 and telephone number is (802) 483-2311.
Middlebury Inn - The Middlebury Inn is a full service hotel with a whopping 71 guestrooms. It can accommodate just about most types of gatherings and has the food, drink, and lodging to boot. The amenities are unparalleled and the staff is professional. The Founder's Room is a wonderful place for a dinner or cocktail party with its high ceiling, crown molding, and marble fireplace. It can accommodate up to 110 guests for your little event and provides just the right mix of intimacy and grandeur. The Stewart Library and Willard Room are other venues where you can hold different activities as you see fit. In one word it's all magical. The address is 14 Court Square, Middlebury, VT 05753 and telephone number is (802) 388-4961.
Mansfield Barn - The Mansfield Barn shares its name with Mount Mansfield, which can easily be viewed from the venue. This barn is an excellent choice for those looking to have a rustic wedding in a barn with not only elegant design and fixtures, but also a rich and detailed history. Whether it's your wedding ceremony, reception, dinner party or simple cocktail, you will love having it at the Mansfield Barn. With plenty of opportunities for photos, looking back on your wedding through the photographs will be a fun activity and the memories will be priceless. Try out the Mansfield Barn and find out why everyone thinks of it with such fondness! The address is 3 Irish Farm Rd, Jericho, VT 05465 and telephone number is (802) 899-2823.
Crosshaven Farm- The Crosshaven Farm is often fondly referred to as the 'gateway to the Mad River Valley'. This farm is set on 400 acres of nothing but fodder for adventure and fun. There are plenty of activities to be enjoyed here, including hiking, skiing, bird watching, fishing, snowshoeing, and many more. The Cottage, which was once a hunting cabin, is now a luxurious 2 bedroom lodge with the capacity to give you the perfect rustic venue for your intimate wedding. Whether you're looking to do things indoors or outdoors, the Crosshaven farm lends itself perfectly to the occasion. The address is 75 Bridge Road, Moretown, VT and telephone number is (802) 496. 9393.
Riverside Farm - Riverside is one of the most exclusive wedding venues Vermont has to offer and there's good reason why. This beautiful wedding destination features 700 acres full of options you can take advantage of for your Vermont wedding. These include a farm, a golf course, and plenty of gardens. The rustic feel of the wedding venue contrasts perfectly with the picturesque backdrop of the location. The photo opportunities here are countless. The venue can host any size of event, from an intimate affair to a grand one with up to 500 guests. You'll love this venue as it is the quintessential Vermont wedding venue and has a lot to offer. The address is 3178 VT-100, Pittsfield, VT 05762 and telephone number is (802) 746-8822 .
---
Get with the Trend with Vermont Wedding Venues!
---
If you're planning to get married in Vermont, you'll probably be interested in knowing about some of the wedding trends here. There are lots of fun traditions surround weddings in Vermont, and most of them have something to do with the natural features of Vermont, which are plenty.
When it comes to wedding venues in Vermont, rustic seems to be king, with rustic barns and mountain venues being the most popular venues. From such places you'll get scenic views of rock formations and mountain vegetation from a vantage point with an unmatched command of the surrounding landscape.
Vermont is known for very beautiful seasons as well, with plenty going on no matter whether it's spring, summer, fall or winter. In fact, despite the lower temperatures, winter is a popular wedding season. Most of the weddings during this season, however, are held indoors while the snow-capped mountains outside are used as a backdrop for your stunning photos.
What about décor, floral, and color schemes? The local florists seem to stock a lot of pinks. A lot of weddings also seem to love including pink in their color scheme so that seems to be a thing. If you're having a wedding in Vermont, then pink is the way to go. You might also want it to be either formal or semi-formal as a majority of couples that get married in Vermont do either formal or semi-formal weddings. As for whether it's going to be indoors or outdoors, it's up to you because most couples like to do a mix of the two.
Overall, Vermont's distinct New England charm makes it an excellent location for weddings and you can choose from any of the numerous wedding venues, starting with the ones featured in this list. Happy wedding!
CT Wedding Photographer Andrew Henderson, 422 Villa Ave Fairfield CT 06825 - (203) 997-2332