NYC ELOPEMENT PHOTOGRAPHER
---
Thinking of getting away for a while, and New York City might be the perfect place to say those vows? Wherever you are coming from- across the country or across the world, you picked the right city. Romantic, whimsical and secret, a NYC elopement has definitely been gaining popularity. An elopement is a fun way to skip the hassle of wedding planning. It is also a way to celebrate with those nearest and dearest to you and is very cost effective. Read on for some basics about elopements and getting married in New York by NYC elopement photographer, Andrew Henderson.
---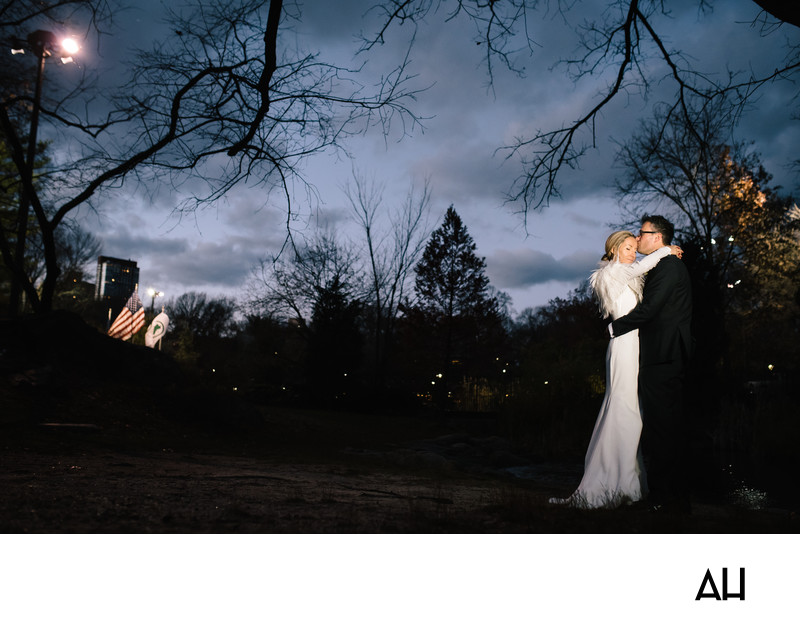 ---
What is an elopement?
An elopement is when a couple runs off to get married, usually with little outside interference. Meaning, they are small affairs, with a short guest list or only witnesses, generally. Some tradition is foregone in the spontaneity. They are fast, yes, but also personal. Depending on the ideas and dreams of the couple, they can be the right thing. In fact, there is an elopement for every style now. Some want the quick route of getting married with no fuss, frills or fancy clothes. Others desire something a little more extravagant with tuxes, flowers, cake and the like. Wedding planners can be hired for elopements, caterers, florists, etc. Some choose to go the fancier route because it is the two of them and will cost less than a wedding for 100. There are no limits to the fun and pizazz that can be part of this celebration.
---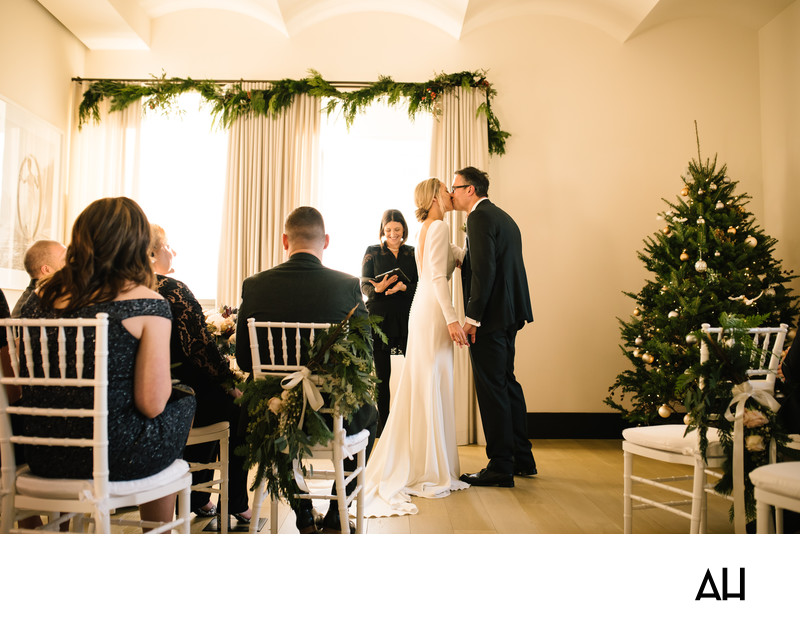 ---
How do you get married in NYC?
The first thing to do, as with anywhere else, is to get your marriage license. To do this, you must go visit the city clerk's office, and the price is $35.00. Yes, part of the transaction can begin online, but showing up in person is mandatory. Ensure there are no mistakes with names or addresses when filling in the blanks on your application. Be sure to bring ID's with you. These can be a driver's license, passport, or various other forms of identification, found on the city clerk's website. Once you have your marriage license, you must wait a 24-hour period before going through the marriage ceremony. So get this done in advance! They are good for a couple of months. After the license part is complete, you can plan what day you want to get married, who will be present, and the events afterward. Don't forget to include details for your photographer, so they can get the best pictures.
City Hall Wedding
Yes…or not. See, it is not actually a possibility to get married at city hall, contrary to what most think. You must instead go to the "Office of the City Clerk: Marriage Bureau." The address is 141 Worth Street in Manhattan. The office is open to the public Mondays through Fridays – no weekends – 8:30 - 3:45.
This is if you wish to marry in a government building. If you want to be a little more creative, there are many other locations to hold your ceremony throughout the beautiful city of New York. And here are some of the best spots in town – you're welcome.
---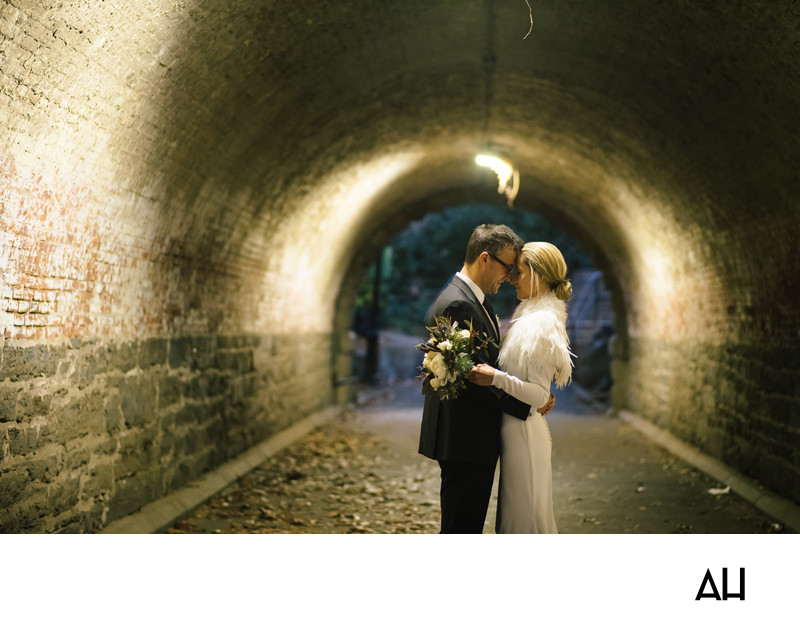 ---
Other Locations
Having zero limitations is what makes an elopement in NYC so exciting. Due to the small size of the party, getting married almost anywhere you choose becomes a cinch. There are many options, from parks and museums to your parent's backyard, but here's some of the favorites lately.
Many an adorable wedding has taken place amidst the hustle and bustle of this famous area. If you and your fiancé are the well-traveled types, why not say your vows right here? Then you can hop on a train and book it to the most magical and romantic spots in the city. Talk about a getaway car.
Incredible options with this one. Between all the winding paths and the conservatory garden, you are sure to find the perfect spot to say I do.
Have your ceremony on the steps of the New York Public Library. It is unique and stylish with a beautiful backdrop for memorable photos.
For some beautiful and unforgettable shots, you can't go wrong with the Brooklyn Bridge. It's the perfect place for a fun loving couple to escape to and be surrounded by tourists while getting married.
When planning, don't forget about places like museums or in front of monuments, cute boutique hotels or B&B's, and any other spot that is meaningful to the two of you.
---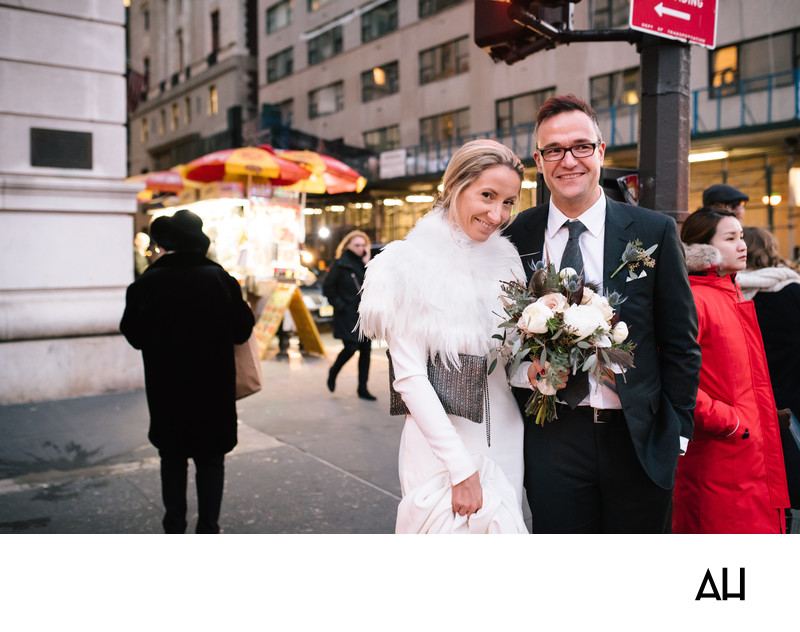 ---
What to do after you Elope with a NYC Elopement Photographer?
Now that you have said the vows and made the promises, what's next? Most find this a great time to go on a honeymoon or a quick weekend getaway. You can explore Manhattan, venture into Canada, or book a flight out to Europe. Whatever you decide – enjoy it!
When you return home, it is a nice gesture to send out announcements about your wedding. Even if people weren't there in person, they will still want to know and congratulate you. It is a good idea to inform your families before others, though, out of respect.
Some also like to have an after or post-elopement party, like a wedding reception. It can include music, food, flowers, décor and a venue if you choose. No worries if this isn't your thing – it is definitely not a rule, but an option!
One vendor you will want no matter what type of gathering you plan is a seasoned wedding photographer. Regardless of how many people are in attendance, you will be looking back on your wedding day for years to come. Experience and professionalism is needed to capture the intimate atmosphere of a NYC elopement. Elopement photography is very similar to wedding photography except much more personal as there are not hundreds of guests. NYC elopement photographer Andrew Henderson has had the pleasure of photographing several gorgeous elopements.
CT Wedding Photographer Andrew Henderson, 422 Villa Ave Fairfield CT 06825 - (203) 997-2332