50 MOST BEAUTIFUL WEDDING VENUES IN CT
---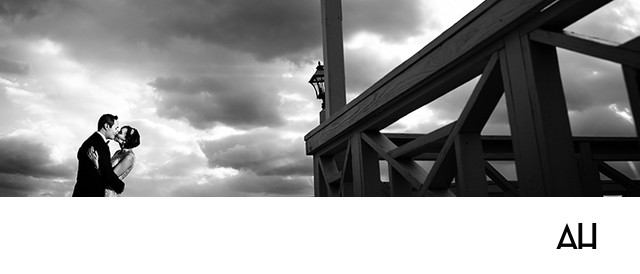 ---
Think the breathtaking state of Connecticut might have everything you are looking for in a wedding location? You're right! Whether you are looking for a stately mansion, rustic farm, or something more industrial, you are sure to find beautiful wedding venues in CT. Ideal for any time of year, you can experience the changing leaf hues in the fall, the relaxing moments of summer, the hushed snowfall of winter, or the hopeful moments of spring. The greenery, aquatic views and colorful history are sure to charm you and your guests, so much so that you shouldn't be surprised if they all vote to extend the vacation past your wedding date. If you are looking for a place that has something for everyone, you will find all you need and more with wedding venues in CT.
---
Wedding Venues in CT
---


---
The Barns at Wesleyan Hills – The Barns is a perfect location for those looking for a rustic wedding in a location tucked into the countryside. You'll love a lot of things about this venue. Incredible photo opportunities, professionalism, and great menus mark this location. Their website is incredibly user-friendly and you can begin planning your special day right away! 225 guests are welcome. 616 Long Hill Road, Middletown CT, 06457 (860) 347-7171
The Society Room of Hartford – The Society Room of Hartford is just as classy as it sounds from the name. This venue is ideal for a semi-formal wedding reception or a cocktail dinner. For those who enjoy the finer things in life, the Society Room is an obvious choice. You and 300 guests can dance the night away in a classic and beautiful setting with a touch of the twenties. 31 Pratt Street, Hartford CT, 06103 (860) 524-0796
Wadsworth Mansion – Wadsworth Mansion defines the epitome of elegance and represents such a rich history that the air is thick with it. What a breathtaking mansion. What a striking place of beauty to say your vows. White pillars, sprawling lawn and all the elegance in the world for 200 or more invitees. 421 Wadsworth Street, Middletown CT, 06457 (860) 347-1064
The Farmington Club – The Farmington Club exudes a certain air of exclusivity and gives one the sense of belonging to a special group: The Farmington wedding alumni. Picturesque and highly detailed, the Farmington Club is sure to put you in the right mood for a wedding, no matter the time of year. 240 well-wishers can join you at this lovely spot. 162 Town Farm Road, Farmington CT, 06032 (860) 677-7341
The Inn at Middletown – Sometimes you can't decide if you want a historic venue or a modern one. We say why choose? Why not have both? Steeped in history with walls that seem to whisper of the past, but with a modern twist that makes this location ideal for newlyweds, the Inn is the perfect choice. 120 guests may join you here. 70 Main Street, Middletown CT, 06457 (860) 854-6300
Jonathan Edwards Winery – Jonathan Edwards Winery sometimes feels not only anachronistic, but also like a visitor from another place. In this case, it echoes of the West coast. Nestled in the state of Connecticut, but still somehow able to evoke feelings of the west coast, this winery has it all. Lovely views, shopping, and of course, delectable wine for your 200 friends and relatives. 74 Chester Main Road, North Stonington CT, 06359 (860) 535-0202
Interlaken Inn – Interlaken Inn is the perfect venue for the more aquatically inclined among us. This excellent venue is right on the waterfront and has a lot to offer. As you may have guessed, this venue has stunning water views. Rustic and pretty, this natural setting will be appreciated by all, and can accommodate up to 220 people. And don't forget about the spa! 74 Interlaken Road, Lakeville CT, 06039 (860) 435-9878
The Hangar at Candlelight Farms – Remember when we said 9% of couples getting married in Connecticut prefer a casual wedding? Well, venues like the Hangar at Candlelight Farms were made just for these couples. A combination of natural woods, lush greenery and romantic ambience, this is great for the easy-going couple. Your 140 guests or more will have a blast relaxing in this open setting. 214 Candlewood Mountain Road, New Milford CT, 06776 (860) 210-0594
Stonecroft Country Inn – The thing about a wedding is that sometimes you want it to be grand without losing any of the familiar creature comforts of home. That's a rare luxury, and Stonecroft is one of the rare venues that offer it. Gorgeous, cozy and comfortable, this gem of an inn possesses all the comforts of home. The stone walls and crackling fireplace make this location great for small gatherings of up to 75 people. 515 Pumpkin Hill Road, Ledyard CT, 06339 (860) 572-0771
Webb Barn – Webb Barn is the quintessential rustic wedding venue. Not only is it cavalier and free, giving one a feeling of freedom, but it also affords one a feeling of deep intimacy with their surroundings. With high ceilings and rich-colored wooden pillars,this grand barn makes a statement while still feeling intimate. 135 or more can gather here. 211 Main Street, Wethersfield CT, 06109 (860) 690-0855
---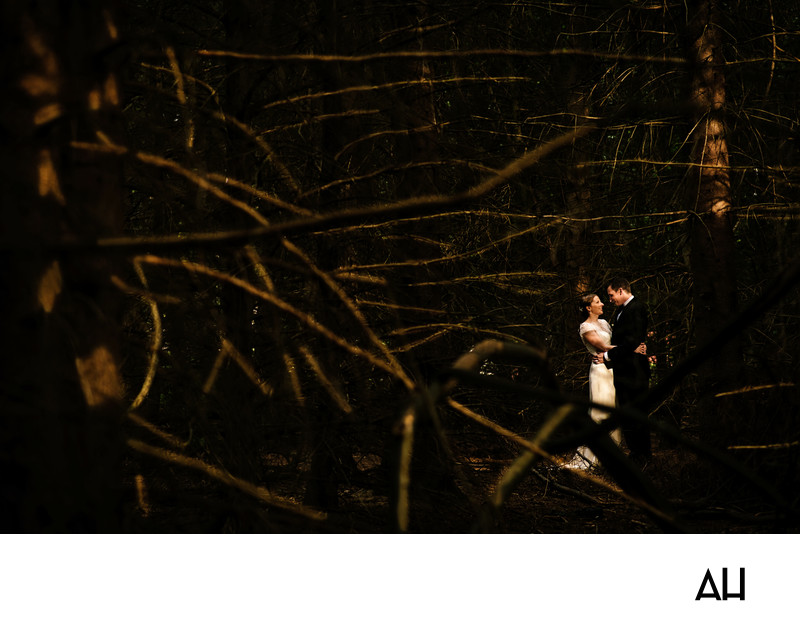 ---
The Lace Factory– There's nothing like a converted factory to capture the spirit of a place's past and grant some of it to the couple about to exchange their vows. The Lace Factory is a perfect example of this. This stunning building hails from 1875 and can hold up to 200. You won't be disappointed with the metal and wood detailing, high windows and old world charm of this location. 161 River Street, Deep River CT, 06417 (860) 526-4445
The Maritime Aquarium – Have you ever fantasized about spending time with your beloved at your wedding reception, enjoying the party, while marine animals swim around in an aquarium in the background? Wouldn't it be great if it were captured in your wedding photos?If you are an ocean lover who craves adventure, look no further! 225 of your friends can enjoy massive water life exhibits while being treated to dinner and the dance floor with you and your intended. 10 North Water Street, Norwalk CT, 06854 (203) 852-0700
Palace Theater – The Palace theater combines two things that should go naturally together anywhere and anytime: The performing arts and royalty. Love the roarin' twenties and can't get enough of the dramatic? You will be treated like nobles in this vibrantly decorated theater, and can bring along 200 guests. 100 E. Main Street, Waterbury CT, 06702 (203) 346-2018
Keeler Tavern Museum – Museum weddings are just special. It's all about beauty and history combined into effective storytelling. Now imagine having some of that storytelling power showered on your wedding. If getting married in a hushed, lavish garden with colorful blooms, brick walls and plenty of history sounds appealing to you, then the Garden House at this museum is exactly what you need. 100 people fit comfortably inside this naturally luxurious setting. 132 Main Street, Ridgefield CT, 06877 (203) 438-5485
The Branford House – The Branford House has such a simple name. It almost sounds like a regular semi-detached house at the end of an English suburb. Don't be fooled by the name, though. White sailboats in the distance, a grey stone manor, excellent landscaping- this is the sort of venue that people talk about forever. With chandeliers and archways giving it a castle-like appearance, this massive house is ideal for parties of 200. 1084 Shennecossett Road, Groton CT, 06340 (860) 405-9072
---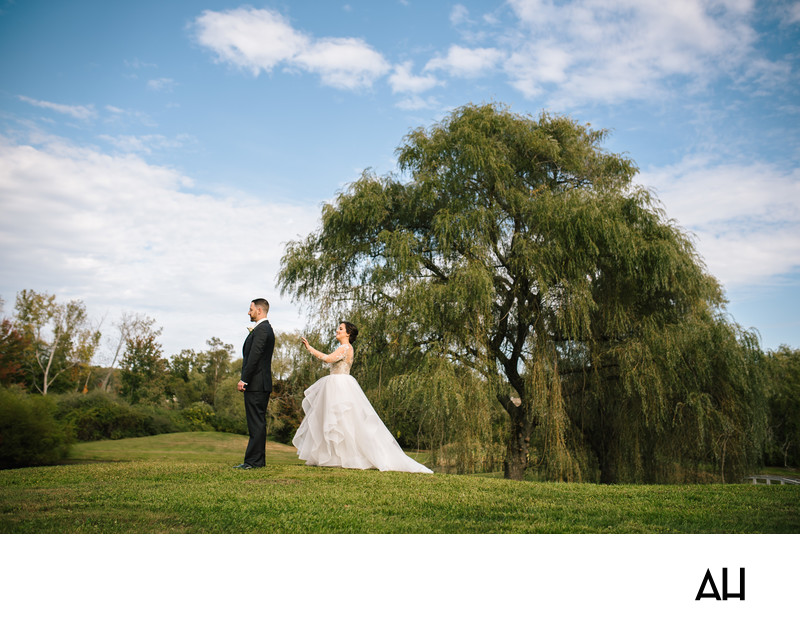 ---
The Mansion at Harkness State Park – Harkness State Park is a breathtaking and picturesque estate, and the Mansion in it is the cherry on top. Lush trees, climbing plants and flowers parade across the grounds, and the detailed architecture of this space is breathtaking. 150 guests are welcome here. 275 Great Neck Road, Waterford CT, 06385 (860) 443-5725
New Haven Lawn Club – This excellent club is a great example of the charm New Haven has to offer to anyone looking to get married in Connecticut. Gorgeous lighting, brick and spacious rooms mark this spot. Dance the night away with 200 friends. 193 Whitney Ave., New Haven CT, 06511 (203) 777-3494
Gershon Ball Room – If you've always wanted an experience similar to Cinderella's in the fairy tale, then the Gershon Ball Room is for you. Only this time you won't have to worry about getting back home before midnight. Art deco charm and plenty of space are givens with this venue. Bring 200 guests and have a blast at this unique spot. 960 Main Street, Hartford CT, 06103 (860) 278-4466
Wrights Mill Farm – Nothing beats a complete venue, where you don't have to outsource the décor or catering and still get to enjoy the beauty of a well put together wedding venue. A gorgeous area that offers all you will need for your big day, including flowers, and catering. Bring 300 or more for your special occasion. 65 Creasey Road, Canterbury CT, 06331 (860) 774-0440
Wadsworth Atheneum Museum of Art – Some of us are so into art that we can't help but want it to be part of our special day. Sculptures, paintings and color abound at this majestic space. Multiple venue rooms are available, the biggest able to hold up to 350 guests. 600 Main Street, Hartford CT, 06103 (860) 278-2670
Guilford Yacht Club – If your spirit has always been tethered to the ocean, then it's only fair that the ocean is a part of your nuptials. For those that love well-lit rooms, sea air, and all things nautical, come to the yacht club. You and 300 guests can party in this romantic atmosphere. 379 New Whitfield Street, Guilford CT, 06437 (203) 415-3427
The Loading Dock – The Loading Dock is perhaps aptly named as a metaphor for the dock at which the ship of your marriage finally leaves the shore and sails off into the distance, ready for adventure. This venue is modern, unique and incredibly fun. For the art-loving, city bride and groom looking to have a great party that will be talked about forever! Can hold up to 300. 375 Fairfield Avenue, Stamford CT, 06902 (203) 357-7400
Lord Thompson Manor – This lofty name belongs to a mansion that is just as lofty. This venue, in turn was made for those who would like to have the loftiest of weddings. Dainty, quaint and perfectly classy, this venue is simply splendid. 250 guests will have plenty of room here, and can take advantage of the spa and beautiful rooms. P.O. Box 428, 286 Thompson Hill Road, Thompson CT, 06277 (860) 923-3886
Priam Vineyards – There's something about wine that makes vineyards so alluring, especially as wedding venues. This fresh, dazzling and inviting location will leave you inspired. Able to comfortably accommodate 300 guests. 11 Shailor Hill Road, Colchester CT, 06415 (860) 267-8520
Madison Beach Hotel – Are you looking for an indoor/outdoor beach wedding? Do you want the Atlantic Ocean as a backdrop for your wedding photos? Looking for a place with an ocean view? This is the spot. 200 invitees can soak up the rays of the beach, and gaze out at the dazzling views with you at your wedding. 94 West Wharf Road, Madison CT, 06443 (203) 245-1404
Saybrook Point Inn & Spa – Your wedding shouldn't be full of stress or worry. It should be a place where tension and stress are released and you prepare for the rest of your life. Intent on making your special day one of both relaxation and celebration? This Inn leaves little to be desired with their exceptional service. 2 Bridge Street, Old Saybrook CT, 06475 (860) 395-2000
---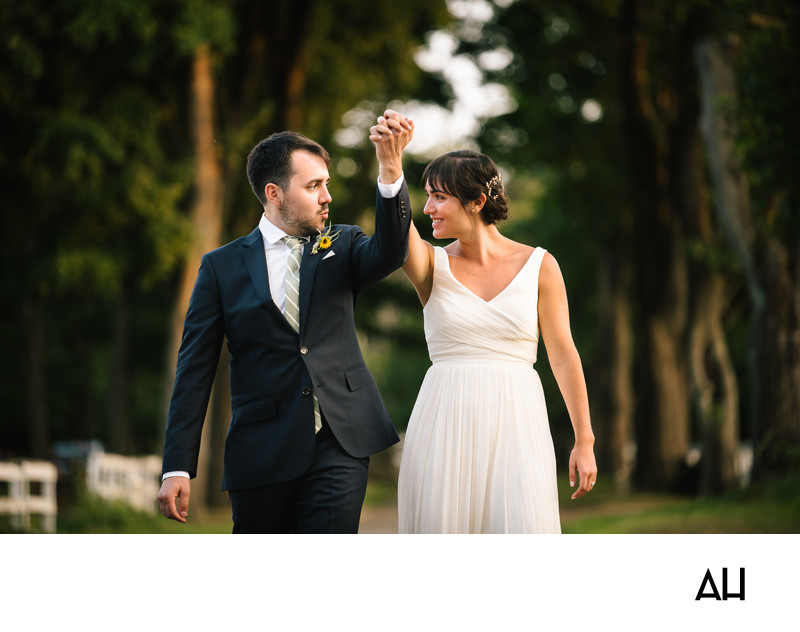 ---
Mystic Seaport – It's a seaport on the ocean. It's beautiful. It's mystic. It's the Mystic Seaport. Want authenticity and perfect pictures of the water? The seaport has multiple locations for your choosing, including church, boat and lawn options, some of which can hold 500. 75 Greenmanville Ave., Mystic CT, 06355 (860) 572-0711
Tower Ridge Country Club – If you're looking for the perfect countryside wedding with incredible panoramas of the surrounding countryside, then Tower Ridge is for you. Sprawling lawn and mountain views accompany this property. Say I do with 250 friends present at this luxurious venue. 140 Nod Road, Simsbury CT, 06070 (860) 651-9393
Connecticut River Museum – What if there was a way for you to combine your love for water with your love for history and incorporate the mixture into your wedding? Want to combine a love of water with a passion for history on your special day? Celebrate among the sailboats with 150 party-goers. 67 Main Street, Essex CT, 06426 (860) 767-8269
Mystic Museum of Art – Just like the Mystic Seaport, the Mystic Museum of Art is a place for those who love some of the mysterious sprinkled onto their special day. Rushing river scenes and fabulous venue options for 130 make this place delightful for any bride and groom. 9 Water Street, Mystic CT, 06355 (860) 536-7601
Avon Old Farms Hotel – The Avon Old Farms Hotel is a classic for the couple seeking authentic country charm. This venue has a distinct French flair borrowed from New Orleans, and is able to comfortably seat 160. Once you see it, you'll fall in love all over again. 279 Avon Mountain Road, Avon CT, 06001 (860) 677-1651
Omni New Haven Hotel at Yale – The Omni New Haven Hotel is a case study in harmony. Somehow able to be both opulent and simple at the same time, this is one venue you will definitely want to see. It can hold up to 600 guests in the spacious interior. 155 Temple Street, New Haven CT, 06510 (203) 772-6664
Oronoque Country Club – This venue feels as exotic as its name. Beautiful windows, plenty of outdoor scenery, and room for 250 guests. This venue will set the perfect tone for your brand-new marriage. 385 Oronoque Lane, Stratford CT, 06614 (203) 375-4293
Hill-Stead Museum – The Hill-Stead Museum is a magical place. A place where anything is possible. With 5 different wedding areas to choose from, including a sunken garden and a theater area, you are sure to find the perfect space for you and 200 friends. 35 Mountain Road, Farmington CT, 06032 (860) 677-4787
The Golden Lamb Buttery – The Golden lamb Buttery is quite golden. 1,000 acres of outdoor space and colorful surroundings mark this scene. Perfect for farm and country lovers. 499 Wolf Den Road, Brooklyn CT, 06234 (860) 774-4423
Saint Clements Castle – Here's another one for the fairy tale lovers. Picture yourself dancing with your new spouse amidst a story book castle setting inside an immense ballroom. 250 of your friends and relatives will be awed by the turrets and towers that make this location so special. 1931 Portland-Cobalt Road, Portland CT, 06480 (860) 342-0593
Winvian Farm – Winvian Farm has a certain classic look to it. A picturesque garden-like setting with beautiful indoor and outdoor areas. 200 people are welcome to spend a lovely day with happy newlyweds here. 155 Alain White Road, Morris CT, 06763 (860) 567-9600
Candlelight Farms Inn – If you're looking for a beautiful setting somewhere deep in the countryside, then this country oasis is an alluring place for groups of 350 to gather. Lovely outdoor views abound and many memories are waiting to be made. 214 Candlewood Mountain Road, New Milford CT, 06776 (860) 210-0594
Delamar Greenwich Harbor – The Delamar Greenwich Harbor certainly exudes opulence. A place of refinery and extravagance, the Delamar can hold 200 people easily. If you want a great team and all the extras, this is the location for you. They will even bring boats in to transport your family and friends! 500 Steamboat Road, Greenwich CT, 06830 (203) 661-9800
Historic Lounsbury House – This venue is simply oozing with history and character. This venue boasts experts who care and are able to provide you with insight for all your wedding planning needs. Elegant and beautiful, this place will charm up to 250 friends and relatives. 316 Main Street, Ridgefield CT, 06877 (203) 438-6962
Fox Hill Inn – Fox Hill Inn is perhaps the best real life definition of simplicity. With distinct historic vibes and clean architecture, you can't go wrong. This venue accommodates 250 people. 257 Federal Road, Brookfield CT, 06804 (203) 775-0089
Candlewood Inn – The Candlewood Inn is the epitome of a romantic venue. As romantic as they come, this Inn is divine with unique windows and plenty of space. 300 people can take in these lovely views as you say I do. 506 Candlewood Lake Road, Brookfield CT, 06804 (203) 775-4517
Woodway Country Club – The Woodway Country Club is an everyday club for the everyday person. Extremely versatile, for small parties or large ones of 400, this space creates the perfect ambience. Many rooms to choose from and breathtaking grounds come with this space. 540 Hoyt Street, Darien CT, 06820 (203) 322-1661
The Country Club of Darien – A venue unlike any other on grounds unlike any other and a staff you can count on. This space is simple class at its best. 300 Mansfield Avenue, Darien CT, 06820 (203) 655-9726
Wee Burn Country Club – The Wee Burn Country Club isn't your typical country club. Both exquisite and chic, this location is one for the ages. You will have an incredible time tying the knot here. 410 Hollow Tree Ridge Road, Darien CT, 06820 (203) 655-1477
The Country Club of New Canaan – This is an old club with plenty of stories to tell. Over a hundred years old, and well-loved by many, this site has earned its place in the heart of the wedding industry. Dance the night away in this amazing space. 95 Country Club Road, New Canaan CT, 06840 (203) 966-3513
Rockrimmon Country Club – It doesn't matter how many guests you're having; the Rockrimmon Country Club has you covered. The sprawling hills and mature trees and foliage make this venue a winner. It is perfect for any group size and exceedingly elegant. 2949 Long Ridge Road, Stamford NY, 06903 (914) 764-5010
The Patterson Club – Despite the unassuming name, this is actually a grand venue. Comfortable yet spacious, 240 people can party comfortably here. Make it perfect by hosting your wedding in this fantastic environment. 1118 Cross Highway, Fairfield CT, 06824 (203) 259-5244
Saltwater Farm Vineyard – Yes, the name sounds interesting. However, the venue is even more so. With massive grounds and gorgeous spaces, this well-loved and top rated venue site is accommodating for all. Kick back with 200 loved ones for a wedding celebration you'll remember forever. 349 Elm Street, RT 1A, Stonington CT, 06378 (800) 818-7258
---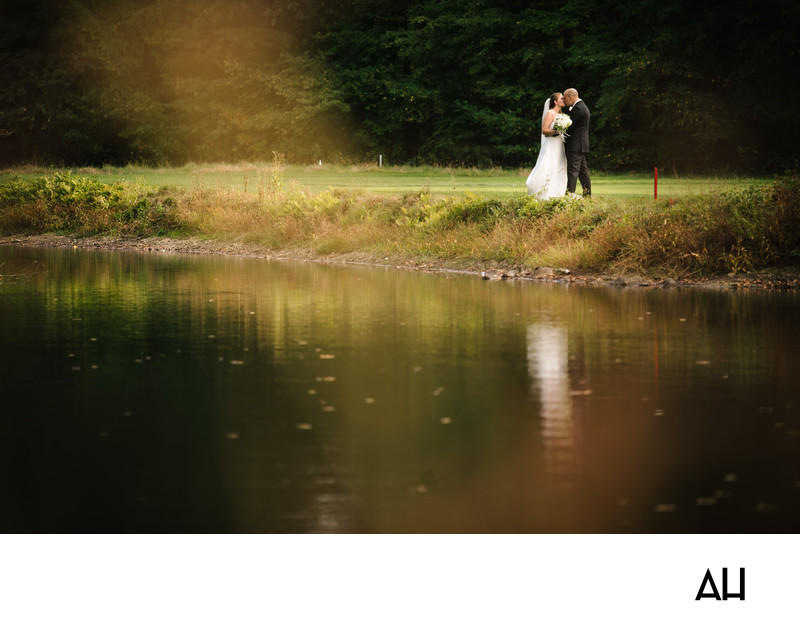 ---
Welcome to Wedding Venues in CT
It really doesn't matter what season you're in; Connecticut is one of the most beautiful states in the New England area at any and all times of the year. That, in itself, is a perfect reason why you might want to hold your wedding in this place. Amazingly, however, that isn't the only reason why it's a great wedding venue. This state happens to have one of the best collections of wedding venues in the country.
"The Constitution State" not only has a lot of scenery when it comes to providing beautiful backgrounds for your wedding; it also has an expansive coastline that looks out over the Atlantic Ocean. That means you can do just about anything from a formal wedding in a mansion to an informal feel-good wedding at the beach.
Connecticut is an excellent blend of different wedding venues. On the one hand, you have big city venues like New Haven; on the other, there are plenty of rural areas where you can hold your wedding in a more country-like setting.
New Haven is a municipality that is part of the wider metropolitan area of New York. As such, it certainly has a lot of the modern amenities you might need. But this urban area has got a lot more going for it. It was established in 1683, which means it has centuries upon centuries of history behind it. You will find lots of historic wedding venues where you can hold your reception and photo shoot.
If you're more of the traditional kind, you will deeply appreciate the farmhouses and barns in the rural area. Acres on acres of rolling green farmland are available for a beautiful country wedding that give a rustic feel to your wedding.
There are also plenty of other venue types for outdoor weddings, such as beaches, clubs, gardens, vineyards, and parks. All of these will give a unique personality to your wedding ceremony and reception while providing awesome backgrounds for the photo sessions.
What are the Major Wedding Trends in Wedding Venues in CT?
Indoors or Outdoors?
As it turns out, the weddings held in Connecticut are split pretty evenly between the two. According to 2015 study by The Knot, 49% of couples that hold their weddings in Connecticut prefer an indoor wedding venue. One that was particularly preferred was the Wadsworth Mansion. This magnificent mansion features Georgian Revival architecture and a large estate around it. It was established in 100.
49% of couples that hold their weddings in Connecticut prefer to have an outdoor wedding. A preference in this case was the Saltwater Farm Vineyard, located in Stonington. The remaining 2% of couples had weddings that incorporated both indoor and outdoor venues.
What Style of Wedding is Preferred?
When it comes to style, the results are overwhelming. A whopping 68% of couples who had their weddings in Connecticut preferred a semi-formal affair. About 23% preferred a more formal black-tie wedding, while a meagre 9% went for a casual wedding.
This seems to make sense in a way. People go to Connecticut for the history and architecture employed in the many historic mansions. In such venues, the most fitting type of wedding is a formal or semi-formal styled wedding.
How do You Incorporate State Identity into your Wedding?
State pride should be a significant part of your wedding, at least as a way of appreciating the state in which you're holding your wedding. In Connecticut, there are various ways to incorporate it into your wedding.
The state of Connecticut has an official dance: square dancing. This is a pretty popular dance across the state and you could easily incorporate it by including some country songs in your wedding playlist. It's particularly great if you have a rustic wedding at a barn or farmhouse. You could also include the state flower, the Mountain Laurel, into the motif of the wedding decorations.
You could also show your state pride by incorporating Connecticut colors into your wedding decorations. Connecticut was a crucial part of many major events. These include the Revolution, the inception of the United States of America, and the Civil War that followed in the next century. As a result, part of its identity is the triplet of red, white, and blue that defines the American flag.
Including these colors into your wedding decorations will add a dash of Connecticut personality to your wedding and make you out to be a patriotic citizen. This particular color scheme is great for beach weddings as well because all of these are considered nautical colors. They fit right in whether you're having a wedding in a mansion or at the coast.
How much will a Wedding in Connecticut Cost?
Before you get married in this state, it will be a good idea to have an idea of how much the wedding will cost you. That way, you won't have a headache later when you try to have fun on your big day. Here's a short breakdown of the average costs you can expect to incur on a Connecticut wedding:
Wedding Gown - $1,752
Venue – $19,597
Event Planner - $2,022
Flowers & Decorations - $2,512
Music - $1,700
Wedding Cake - $564
About 7 out of every 1000 couples in the United States of America are deciding to hold their wedding in the state of Connecticut. This is actually a healthy number, compared to other states, and reflects how popular Connecticut is as a wedding destination. The average amount of money spent on a wedding by these couples is approximately $42,000. According to the expenditure of over 70% of couples getting married in Connecticut, you shouldn't expect to spend anything less than $20,000 if you're going to hold your nuptials here.
What's the Best Place to hold your Wedding in Connecticut?
You're literally spoilt for choice when it comes to choosing a town or city in Connecticut to hold your wedding in. There are about 170 cities and towns in this state and they are all spectacular. Whether you're looking for a coastal town, a big city, a suburb, or a rural farming community for a rustic wedding, you'll find something for you quite easily.
With all that said, there are still some venues that take the cake as far as popularity goes. They include New Haven, Bridgeport, and Stamford.
New Haven
New Haven is both old and new with its unique mixture of modern amenities and venues with a deep historic vibe. As far as potential venues are concerned, there is a wide assortment you can choose from here.
New Haven is a coastal town. It also happens to be the second largest city in Connecticut and is extremely old, dating back to 1683. This magnificent city is home to the Yale University, which has proven a popular venue for many young couples looking to hold their weddings.
Another thing that catches the eye with New Haven is its abundance of top notch restaurants. These will make great caterers if you decide to hold your wedding in this city. They could also be venues for your cocktail dinner if you're planning on taking your wedding reception in that direction.
There are plenty of other venues in New Haven, all of them bringing something fresh to the table. These include landmarks with plenty of history behind them, theaters, museums, and performing arts centers, among others. They range in age from very recently to some as old as the port of New Haven itself.
Bridgeport
Bridgeport is another coastal city that perfectly captures the New England spirit with its mix of elegance and modernism. This city is quite populous, being the most populated city in Connecticut. It's not doing particularly badly in the greater New England region either, being the 5th most populous city.
Bridgeport is simple bubbling with culture, and this is obvious in all of the various wedding venues available in this city. From parks and zoos to museums and theaters, you won't lack options in Bridgeport. One thing's for sure: the venues are picturesque and offer excellent backdrops for your wedding photos. A Bridgeport wedding is a picture perfect wedding.
Did you know that this city has been the location for many movies? This is because of the beautiful neighborhoods and the scenic streets. There is also plenty of history in this City with venues such as the Rodeph Shalom Synagogue, which was established in 1949 and the Cavalry Street George's Episcopal Church, which was established in 1930.
Stamford
Stamford, believe it or not, is quite a popular business hub. Despite the dominance of nearby New York City, this little city with the third largest population in Connecticut still manages to hold its own. A lot of companies in the Fortune 1000 and the Fortune 500 have made their homes here, making the city quite vibrant.
There's a lot more to Stamford, away from the business side of things. It has a lot of great venues, including golf clubs, grand hotels, and historic mansions, among many other venues that are perfect for semi-formal and formal weddings. Whether you want a location in the inner city or something maritime, Stamford has you covered.