9 MOST BEAUTIFUL NEWPORT RI WEDDING VENUES
---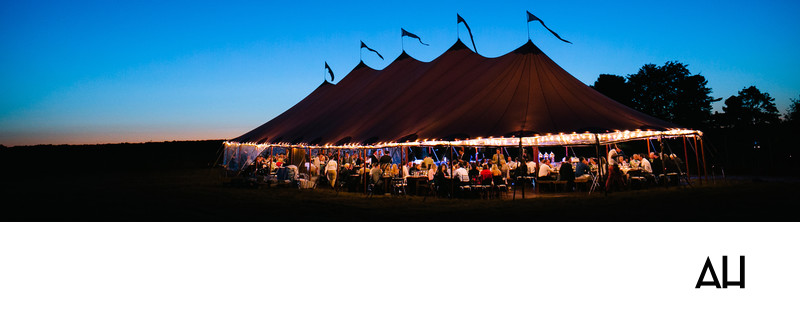 ---
A conversation about Newport RI wedding venues is inseparable from a parallel conversation about Rhode Island, the home state of this beautiful city. It's probable that you already know a few facts about Rhode Island, such as that it is the smallest state in the United States, or that it has up to 40 miles of coastline. These certainly make it look like it has nothing much to offer, but don't write it off just yet.
Despite its small size, Rhode Island offers some very big wedding options. Its massive coastline is also a major contributing factor to its pet name: The Ocean State. Rhode Island water venues, including those in Newport, are quite the rage because of the way they blend two unique vibes. You get a perfect mix of the glorious heritage of the East Coast mixed in with an adventurous and easygoing vibe. Consequently, you'll find plenty of inns, clubs, and restaurants on the coastline, offering fantastic views and exposing you to the pleasant ocean breeze.
It's not just about the views, though. There is a lot of history behind weddings in Rhode Island. This state has been around for nearly 4 centuries, dating back all the way to 1636. Newport holds a special place in this respect with numerous mansions that provide excellent historically charged wedding venue options.
You might also want to consider Fort Adams, a huge fortress right on the coast, arguable the largest fortress on a coast in all of America. This magnificent edifice was put up in 1799 and offers some of the most breathtaking views of the surrounding water.
There's even more. You'll find banquet halls, country clubs, and grand hotels, among others. All of these would be ideal wedding venues for whatever themed wedding you're looking to have.
Some people come to Newport and Rhode Island in general seeking opulence. Others would rather have a simple environment around them. Whatever you're looking for, you'll likely find it here.
Overall, Newport is a great place to hold your wedding. This city was once a popular playground for the well-heeled of New England. It has hosted the weddings of some notable personalities, including two presidents: John F. Kennedy and Dwight D. Eisenhower. The most popular wedding venues are the colonial homes and mansions. However, you will find plenty of other venues catering to different tastes.
Looking for the perfect Newport RI wedding venues? Here are some of the most beautiful. There is a venue in this list for every couple whether they are planning a black tie affair or a Bohemian wedding.
The following Newport RI wedding venues is by wedding photographer, Andrew Henderson. If you are looking for wedding photographers in RI and would like to book me, contact me.
---
Newport Wedding Venues
---
Castle Hill
– Castle Hill is about as classic as a Newport RI wedding gets. It sticks out like a gem on the western-most tip of Newport and commands spectacular views of the surrounding waters. The Inn itself is a magical place that seems to pop right out of a fairy tale book to embrace you. You'll find the potential for breathtaking pictures here to be massive, with plenty of picturesque locations stretching from Grace Kelly Beach to Castle Hill Beach. You can host a maximum of 400 guests at this venue.
Castle Hill's address is 590 Ocean Drive, Newport, RI, 02840 and phone number is 401-619-3830.
Aldrich Mansion – Aldrich Mansion is the quintessential gilded age mansion type that has made Newport particularly popular among couples. It is a grand French chateau with seventy rooms that overlooks the Narragansett Bay. It offers such immense beauty that you will be sure to create the most unique Newport wedding pictures in this venue. This beautiful mansion can take up to 230 guests.
Aldrich Mansion's address is 836 Warwick Neck Avenue, Warwick RI 02889 and phone number is (401) 739-6850.

Newport Yachting Center – The Newport Yachting Center screams nautical themes everywhere. This is the perfect venue for you if you're a couple that prefer to have echoes of the ocean in every aspect of their wedding. It will certainly feel like a proper Newport wedding with the seaside ceremony and the numerous sailboats and the magnificent Newport Bridge in the background. The pictures will certainly pop. This club doesn't have a maximum when it comes to the number of guests it can hold so you can hold a grand reception here.
Newport Yachting Center's address is 4 Commercial Wharf, Newport, RI 02840 and phone number is (401) 846-1600.
Rosecliff Mansion – Rosecliff Mansion is another quintessential gilded age mansion that will make you feel like you're having a proper Newport wedding. It actually happens to be one of my favorite Newport wedding venues. It also happens to be one of the most famous mansions in Newport with a rich history going back over a hundred years. Holding a wedding here will certainly give you the opportunity to bathe yourself and your guests in the elegance and grandeur of this mansion's past. It's perfect for small, intimate affairs as well as medium sized weddings. If you're thinking of holding a grand reception then you'll have to look elsewhere as this venue only has a capacity of 220 guests.
Rosecliff Mansion's address is 548 Bellevue Avenue, Newport, RI 02840 and phone number is (401) 847-1000.
Regatta Place – This might seem like just another yacht place, but it's so much more, to be honest. It offers beauty all round and is a great place to have your wedding if you want to be surrounded by yachts and have amazing views of the Atlantic Ocean. Provided you get the right weather, the potential for pictures in this venue is almost limitless. There's no shortage of natural lighting and the background is simply amazing. It also happens to be another one of my favorite Newport wedding venues and there's nothing I love more than taking pictures on the docks. I've done couples bridal parties, and even family portraits here and I can tell you it brings out a certain magical vibe that you won't easily find elsewhere. The maximum capacity is 200 guests.
Regatta Place's address is 5 Marina Plaza, Newport, RI 02840 and telephone number is (401) 849-6683.
Belle Mer – One word: atmosphere. If you're a couple that values atmosphere above all else then this Newport wedding venue was made especially for you. Belle Mer (Even the name oozes a certain panache) is the perfect Goat Island Newport wedding venue for the modern couple looking for a wedding that exudes atmosphere. Belle Mer is the epitome of glamor and offers nothing but excellent and unparalleled views all round. The Ocean Lawn is a perfect location, whether you're holding your wedding ceremony or having a simple reception. If you're planning to do some dinner and dancing at the Water Salon, make sure your guest count does not exceed 280. On the other hand, if you want to hold a simple sit down dinner, the Island House is perfect, with a capacity of 190.
Belle Mer's address is 2 Goat Island Newport, RI 02840 and phone number is (401) 841-0330.
Hotel Viking – Hotel Viking might sound a little crude, owing to the presence of the word 'Viking' in the name. However, this Newport wedding venue exudes nothing but elegance. Whether you're exchanging nuptials in the Kay Chapel or holding your reception in the Bellevue Ballroom, you'll certainly appreciate the way this hotel offers the perfect space for a formal or modern wedding.The hotel isn't just beautiful; it is also old and certainly has a lot of history to it. For starters, it is located on Newport's Historic Hill. You can almost hear the stories collected over the years since its inception in 1926 vibrating through the architecture.
Hotel Viking's address is 1 Bellevue Avenue Newport, RI 02840 and telephone number is (401) 847-3300.
OceanCliff – OceanCliff is breathtaking and a great location at which to be married especially for Newport weddings. This aptly named venue sits on 10 plush acres of rolling greens with some of the most amazing views of the Atlantic Ocean. The pictures you'll take here will have eyes popping out as people look at them for many decades to come.The maximum capacity is 225 for dinner and dancing.
OceanCliff's address is 65 Ridge Rd, Newport, RI 02840 and telephone number is (401) 841-8868.
Stone House – The Stone House certainly has a plain and unassuming name. But don't let that mislead you. This is one of the most beautiful wedding venues in Newport, Rhode Island. The Stone House is old, having been built in 1854. It started out as a private residence belonging to a family that was part of the seaside farming community of Little Compton, Rhode Island. The building has four stories of pure beauty and photographic potential. Couple this with everything in between stretching all the way to the private beach and you'll see that the possibilities are endless for great photos.
Stone House's address is 122 Sakonnet Point Rd, Little Compton, RI 02837 and phone number is (401) 635-2222.
---

Wedding Trends in Rhode Island and Newport RI Wedding Venues
---
One of the first assumptions people have about weddings in Rhode Island is that beach weddings are the most popular here. However, according to statistics from The Knot suggest otherwise. 52% of couples doing their weddings in Rhode Island prefer an indoor affair. On the other hand, 47% prefer the outdoors, which is where beaches fall. This is a very general statistic, however. Receptions show even more overwhelming results. 64% of Rhode Island receptions are held indoors. Only 15% are held outdoors.What about the style of wedding? Would you like to have a full black tie event, a semi-formal affair, or something entirely casual? As it turns out, black tie events are preferred by only 21% of couples. Fully casual weddings are preferred by only 6% of couples. That's understandably a little counterintuitive, considering the heavy beach vibe wafting out of Rhode Island. Meanwhile, 73% of couples prefer a semi-formal wedding. It seems that's the sweet spot in the middle. Here the style is really secondary to the themes, because no matter what style you choose for your wedding, you can always find a way to incorporate the prevalent Rhode Island themes into your Newport wedding. There are many wedding venues right on the water, so your wedding venue is likely to incorporate a coastal theme. The most common color palette here is white, red, and blue, which allude to the nautical spirit of Newport. They also signal to the more observant the history of Rhode Island as the very first American colony to denounce allegiance to the British.
What's your Budget for a Newport RI Wedding?
---
How much will a wedding at Newport cost you? It's important to have your budget well set right from the beginning so that you don't find yourself tight for cash when planning the wedding photography simply because you went all out on the reception. Here are some average costs from The Knot:
Wedding Gown - $1,778
Cake - $653
Venue – $25,643
Décor - $2,855
Music - $1,635
Event Planner - $2,491
Statistically, there are only about 7 weddings per population of 1000 in Rhode Island. However, there are still a lot of weddings being done by visiting couples. The average cost is about $50,000 per couple, all told. Many of these happen in Newport.
What about the Legality?
---
It's much easier to obtain your marriage license in Newport, due to the relatively lenient laws in Rhode Island. The couple should both be at least 16 years of age to begin with, and they must apply in person at the Newport city clerk's office. There should also be an officiant present at the wedding. The rules on who can officiate are quite particular:
Can be either a church elder or a recognized clergy member
Can be a secretary of the senate
Can be one of many federal judges
Can be any elected clerk of the general assembly
Can be any judge from the various courts in Newport, such as the workers' compensation court, the district court, the family court, and the supreme court, among others
There are also some other legal requirements that should be met for the marriage to be legal:
You should bring some identification. You can contact the Newport city clerk's office to find out what kind of identification is admissible
You must both be present for the signing of the application at the city clerk's office
Your application is valid for 3 months and your license will cost you $25
If you're a resident of Rhode Island, you should apply for your license in your hometown. This is defined as the town where at least one half of the couple resides. However, you can hold the wedding anywhere you wish in the state, including Newport



Getting the Timing Right for Newport Wedding Venues
---
If your wedding will be outdoors, then you will definitely want to be careful about the time of year in which you choose to hold your wedding. You certainly don't want any inclement weather ruining things for you. A majority of weddings in Newport take place in the summer. The second most popular season is autumn, followed by spring. Winter, with cold and harsh weather conditions is by far the least popular season in which to hold your wedding. It can be a little rainy in the summer. However, the temperatures are pleasantly warm during the day, followed by cool and soothing nights. Spring is a little cooler than summer, with autumn being even cooler. Summer is the rainiest season of the year. However, it sees its rain concentrated into a few days every month as opposed to spring, which sees a lot more days of rain. You'll find that the planning is much easier in summer because you have a lot more days of sun.It's also important to know the most important festivals happening in Newport and the greater Rhode Island area so your wedding date doesn't clash with them. They typically affect traffic patterns, make some wedding venues unavailable, and lead to overbooked hotel rooms, making it difficult for you to get accommodation for some of your guests. This is one of those situations where you should be in close consultation with your wedding planner. Some of the activities you should watch out for are listed below:
Newport Jazz Festival in August
Newport Winter Festival in February
Newport Oktoberfest in October
Newport International Boat Show in September


CT Wedding Photographer Andrew Henderson, 422 Villa Ave Fairfield CT 06825 - (203) 997-2332